2021 Christmas Window Competition
Every Christmas, the Llanelli Chamber of Trade and Commerce holds a Christmas window competition to recognise the efforts our local businesses go to for their festive displays. As Chamber President, David Darkin was a member of the judging panel with Town Mayor Cllr Michael Cranham, Chamber member Andrew Stephens, Paul White, the Markets Manager and Mandy Jenkins of the Business Improvement District.
The finalists were all invited to the Mayor's Parlour at Llanelli Town Council to be presented with their awards by the Mayor and by David as Chamber President. In addition to the shops, each year the Chamber President hands a special award to an organisation or individual who exemplifies the festive spirit and deserves recognition. This year, David presented an award to Mandy Jones of Llanelli Town Council in recognition of not only the Town Council's ongoing support for the competition, but in particular for Mandy and the hard work she puts into organising and hosting the awards every year.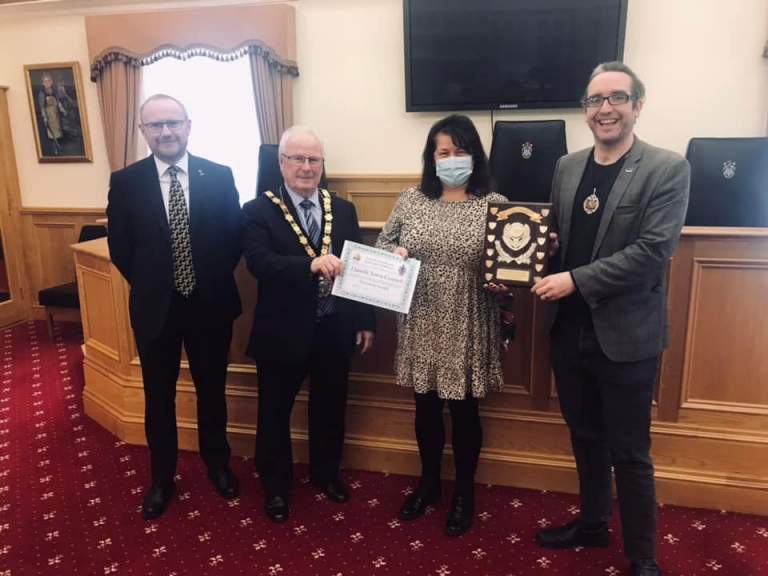 As ever, there was a lot of competition between local businesses and a selection of the winners are included below. More of the finalists and entries can be seen on the Llanelli Chamber of Trade and Commerce Facebook Page where the vote for the public's favourite is now open. Simply like and share your favourite shop to vote for your winner.