Covid-19 Update
Covid-19 Response
We've been receiving high numbers of calls from Clients and Contractors and have therefore produced this response to answer the most common questions we are receiving.

Some contractors are continuing to work, however with the closure of the merchants, we don't see this lasting long. It's up to you to decide if you wish to continue working on site an assess your risk accordingly. If you do pull off site, please make sure that sites are safe and secure and inform us of your actions. Contractually, the current circumstances are likely to be treated as a force majeure, where you will be entitled to an extension of time, but no damages for loss of income e.g. preliminaries.

We are continuing to work on your projects. Our team are used to home working and flexible working and this has been a smooth transition for us. We're still submitting planning applications and receiving responses from local authorities. Where appropriate, we are still undertaking survey work and progressing projects without any impact to our timescales.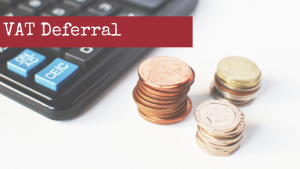 The UK government has said it will defer VAT payments for three months, from 20 March 2020 until 30 June 2020. All UK businesses are eligible and will be deferred automatically. Taxpayers will be given until the end of the 2020-2021 tax year to pay any liabilities that have accumulated during the deferral period. VAT refunds and reclaims will be paid by the government as normal.

In light of the current circumstances, all tender deadlines are to be pushed back by three weeks.

If you would like to make a video call, please get in touch as we do have video conferencing facilities.

We are continuing to receive new enquiries and can conduct our meetings via telephone, WhatsApp, Zoom, Skype etc depending on your preference. So if you need any of our services, know someone who does, or just want to ask some questions, please get in touch.